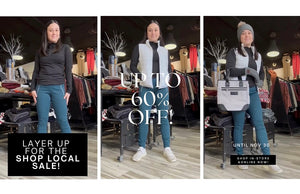 GET EXCITED! IT's OUT BIG SHOP LOCAL SALE!! UP to 60% OFF!!!
LOTS of GRRREAT DEALS until Nov 30, 2023!
From womens apparel, mens apparel, Gryphon and She's Got Game Apparel, accessories and more!!DON'T MISS OUT!!
THANK YOU for supporting our small business!
Candie, Mattie and OTG Team/Family XO
We hope to see you all!!! Xo
*Prices as marked or applied at checkout.
*excludes Goodrs and other conditions may apply.
Thank you to all of our wonderful customers for shopping local and supporting our small business. We truly appreciate you all!!! xo - Your OTG team/family
---
Check out our OTG Crew in lots of our favourite pieces!!!
---
What does "One Tooth" mean?
In an ancient tribe near the company founders' home town, an old story went that if you told a lie you'd lose one tooth.
Being that he wanted to build an ethical business he named it One Tooth as a reminder of this philosophy of goodwill.
Get Inspired! This local, independently owned and operated business prides themselves of being part of the Guelph community and surrounding areas. They love where they work, live and play and love to travel always helping promote and encouraging active and healthy lifestyles.
Whether you're on the mat, in the gym, outdoors, out on the town or anywhere your lifestyle takes you, we can help! 
We offer men's and women's apparel, accessories and more, carrying multiple brands mainly Canadian made and Canadian based companies that share the same values that we do! 
We THANK YOU for shopping and supporting local and our small business! We truly appreciate it and we are truly grateful!
Your OTG Team/Family
When you shop with local Guelph merchants, more of your money stays close to home. This supports the parks, recreation centers, libraries, and other things that make this community a great place to live.
One Tooth Activewear
1474 Gordon St
Guelph, ON N1L 1C8
519-265-8830
Updated:
Store hours
MON to FRI 10am - 5pm
SAT 10am-3pm
SUN -NOW OPEN 12pm-4pm